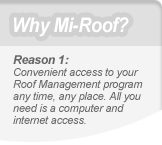 Mi-Roof: "Any Time, Any Place..."



Mi-Roof Managed Internet Roof Solution is the first totally web based application system that allows you to access your Roof Management Program at the convenience of an internet connection. While working in your office environment or at one of your important overseas manufacturing operations, Mi-Roof provides you instant access at the click of a mouse. The Mi-Roof application has been designed and geared towards all commercial roofing markets, including manufacturing facilities, schools, hospitals, municipalities, property management companies, and retail operations. Mi-Roof can be productively utilized by facility managers, plant engineers, architects, roof consultants, roof contractors, and building owners to manage their valuable roof assets. Mi-Roof was developed with the primary goal of helping roof decision makers maintain and preserve their valuable waterproofing assets through asset preservation.
Imagine the possibilities. Imagine the money saving opportunities. Imagine all key roof decision makers connecting at once in "real time" without ever leaving their office. You have been asked to fly to Monterey, Mexico to examine a request for costly roof replacement. The Mi-Roof Managed Internet Roof Solution would afford you the convenience and efficiency of accessing all current roof problems and conditions at that site online and in "real time". All parties involved will have the ability to provide input into each roof problem and simultaneously access the data through Mi-Roof via the internet. Existing conditions and roof repair options can be discussed via the telephone or email while each decision maker sits in the comfort of their own respective office. This will afford decision makers the opportunity to utilize their time-management resources on other local or more pressing problems while saving the company travel money and valuable allocated manpower resources. All of this at the touch of a button "any time, any place"!



Mi-Roof: "The Office, the Road, or the Internet Port..."




The flexibility of the Mi-Roof Managed Internet Roof Solution allows the roof decision maker, the contractor, the design professional, and their customer base to gain and provide access to their Mi-Roof application from any location with an internet port. A design professional, contractor, or building owner providing a roof survey from a rooftop in Florida can instantly provide repair recommendations to their customer's corporate headquarters anywhere in the United States or the world. As corporations continue to downsize their engineering and maintenance staff, remaining personnel are expected to increase their additional responsibilities and job descriptions. Corporations are requiring their personnel to perform more duties with less manpower. Roof decision personnel need the ability to perform their added job responsibilities with all the necessary technological tools available to them during these competitive times. This competitveness reinforces the need for a web-based application tool allowing roof decision makers the ability to have all the technological advances available to them, and for allowing them to remain productive and competitive showing value to their respective firm or company. These technological advancements will provide personnel with a productive, cost-effective, money saving "any place, any time" workplace environment.
The Mi-Roof solution allows roof decision makers and design professionals the ability to closely monitor their roofing capital or expense dollars from any place in the world with an internet connection. The Mi-Roof Managed Internet Roof Solution allows a roof decision maker, contractor, or design professional to closely monitor daily activities such as leak responses or current on-going progress reports for roof replacement projects from anywhere in the world without any additionally trained roof asset management staff. Mi-Roof provides the ultimate in portability and flexibility with current up-to-date information and access to that information in "real time". This is an incredible benefit to any building owner, design professional, or roofing contractor. This web-based application provides an immediate ability to service any customer in "real time".


Home | Why Mi-Roof? | Features | Flexibility | Customization | Leak Tracker | ASP Model FAQ
Screenshots | Schedule Demo | Company | Contact Us

© Copyright Mi-Roof, Inc.