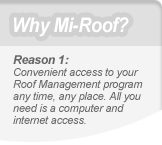 Mi-Roof: "Features and Benefits..."
Mi-Roof: "The Ultimate Access to Data..."
Mi-Roof: "Compatability? - No Problem..."




Mi-Roof: "Features and Benefits..."




The Mi-Roof Managed Internet Roof Solution has all the tools and features that will allow roof decision makers the opportunity to make cost-effective and pragmatic decisions. Mi-Roof can be accessed through any typical web browser, anywhere in the world. Mi-Roof instantly connects a customized application to all those involved in the roof management process. There are no costly upgrades, annoying and time-consuming software downloads, and was designed to be a user-friendly tool that gives the average user the ability to be an efficient power user in a "point-and-click" web-based fashion. You will not have to take a two-week class to learn to operate Mi-Roof. Mi-Roof, Inc. will provide, install, and manage all software upgrades to their clients. When upgrades and new features are deployed, a notification with details on the changes being made will be sent to all Mi-Roof users.





Mi-Roof: "The Ultimate Access to Data..."




Mi-Roof is a technologically advanced web-based application that includes construction data, inspection data, repair options data, budget forecasting data, an unique "Leak Tracker" leak location tool, the ability to import visio and AutoCAD files, roof drawings and details, an unlimited photo library of existing conditions, recent or current roof leak history, recent repair of roof leaks including name of contractor, type of repair, and cost of repair, and all current warranty information including copies of the warranty documents. Mi-Roof gives you the ability to view real-time roof leaks via the "Leak Tracker" tool, current maintenance procedures and repair guidelines, up-to-date billing information, and photographic reports on current and on-going repair or replacement projects. Each roof decision maker has access to these on-going restoration repairs via Mi-Roof through photographic library Progress Reports. Any decision maker can view the quality of workmanship being performed, "any time, any place" even if they are unable to make a personal roof inspection themselves.
Mi-Roof allows the end user to generate full-colored PDF reports for report presentations or hard-copy filing. The Mi-Roof Administration Module allows each assigned administrator to manage control over their approved or allocated users per the license agreement. Every administrator has the ability to set up new in-house users or client users. In addition, administrators also have the ability to assign/restrict users to individual facilities and roof sections.





Mi-Roof: "Compatability? No Problem..."




Desktop applications have attempted to make some or all parts of their software package viewable via the internet in recent years. Although the software may be viewable through the web, the software itself was still restricted to a complex desktop application that ended up being non-intuitive and difficult to operate. Often, the complexity of the model and application itself led to compatibility issues, limited access to data, and long periods of down-time. With the Mi-Roof ASP Model, we allow you to focus resources on core business issues, rather than IT concerns. This approach ultimately allows your business to be more efficicent and profitable, no longer facing compatibility conflicts with internal hardware/software applications, high costs of IT ownership, data storage, database maintenance, etc. The technicians at Mi-Roof will handle all of the complex tasks required to manage this state-of-the-art application. Neither Providers or End Users of Mi-Roof have any special hardware or software to invest in, nor are they required to purchase expensive upgrades to remain current and up-to-date from month to month or year to year. Click here to read more about the ASP Model vs. a Desktop/Client model.


Home | Why Mi-Roof? | Features | Flexibility | Customization | Leak Tracker | ASP Model FAQ
Screenshots | Schedule Demo | Company | Contact Us

© Copyright Mi-Roof, Inc.